HomeTeam Inspection Service
was recently featured in the Pittsburgh Post-Gazette in an article titled "
Third time's a charm for Fox Chapel dad
." The article was written by Anne Orso, stemming from the interview and photo shoot with Ray Fonos and John Pasquella. The article focused on the professional friendship between both men, and how Ray took a chance on John without any experience in home inspection and that it paid off on so many levels. The article also talks about how John had to reinvent himself three times in this economy due to career setbacks, and how he is now finding success with
HomeTeam Inspection
.
Click here
for the full article, or begin reading below.
Third time's a charm for Fox Chapel dad
By Anna Orso / Pittsburgh Post-Gazette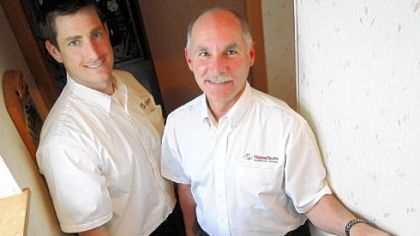 Call it a stroke of luck or a leap of faith, but John Pasquella will tell you his third chance of finding passion in his career was neither. He'll say it was just a case of someone else caring enough.
The 36-year-old father of two who calls Fox Chapel home is beginning to turn his life around -- with the help of a local businessman -- in the face of a turbulent economy after a process of "re-inventing" himself. Twice.
His story fits with the trends -- the national unemployment rate for April was 8.1 percent, a number that's been steadily decreasing since September after rising to even higher levels during the recession, according to the Bureau of Labor Statistics.
(Read more)